18 ATLANTA FOOD TRUCKS WE'RE FEASTING ON
18 ATLANTA FOOD TRUCKS WE'RE FEASTING ON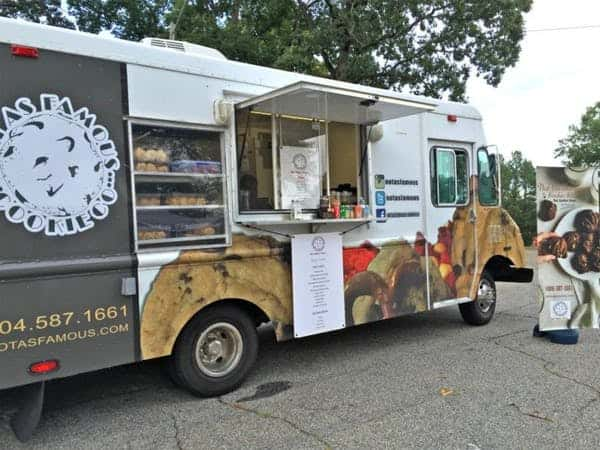 Remember the joy you felt as a child when you heard those bells down your street and then caught sight of the ice cream truck rolling by your house — and the utter joy that quickly followed? We are lucky to capture that epicurean excitement as adults because Atlanta food trucks seem to be everywhere in this city. These gourmet mobile restaurants might be prepping to serve your hungry colleagues during the office lunch break, filling the entire family's belly for dinner at a nearby park, partying with the rest of us at a festival like Shaky Knees or just hunkering down at the Atlanta Food Truck Park. Either way, we took a gander at some of the finest meals on wheels and offer our guide to the best Atlanta food trucks, complete with social handles so you can keep up with their whereabouts. Let's get ready to chow down.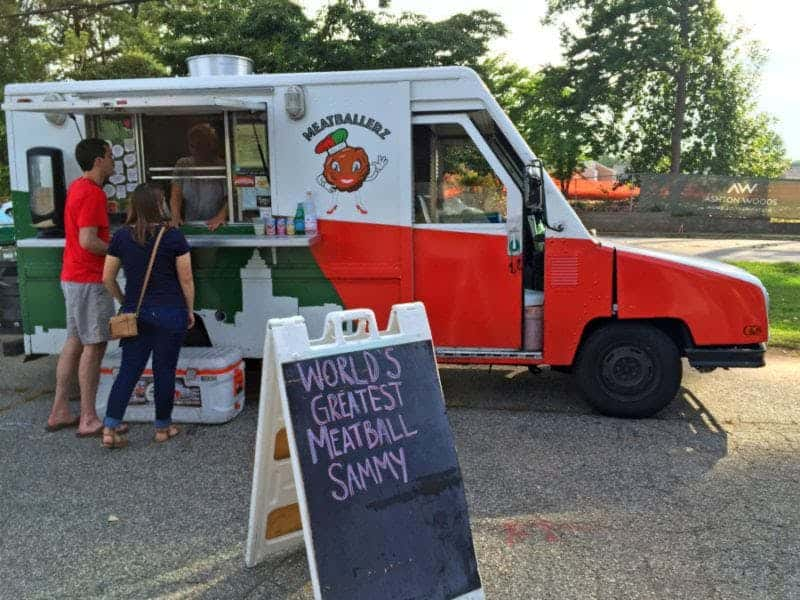 Meatballerz • (404) 861-6088
FB: MeatballerzATL | T: @meatballerzATL | IG: @meatballerzATL
There are meatballs, and then there are meatballz! This Italian eatery makes fresh meatballz from fresh herbs, fine cheese and other carefully thought-out ingredients. Keep in mind that these meaty concoctions are huge, so leave room in your appetite for the "ball in a hole" — an Italian boule (roll) has a lid cup on the top and is filled with the signature meatball, along with their signature red gravy (sauce) and mozzarella cheese; then the lid is closed and the whole thing is toasted (you can also get your meatball "on a stick" or "on a bed").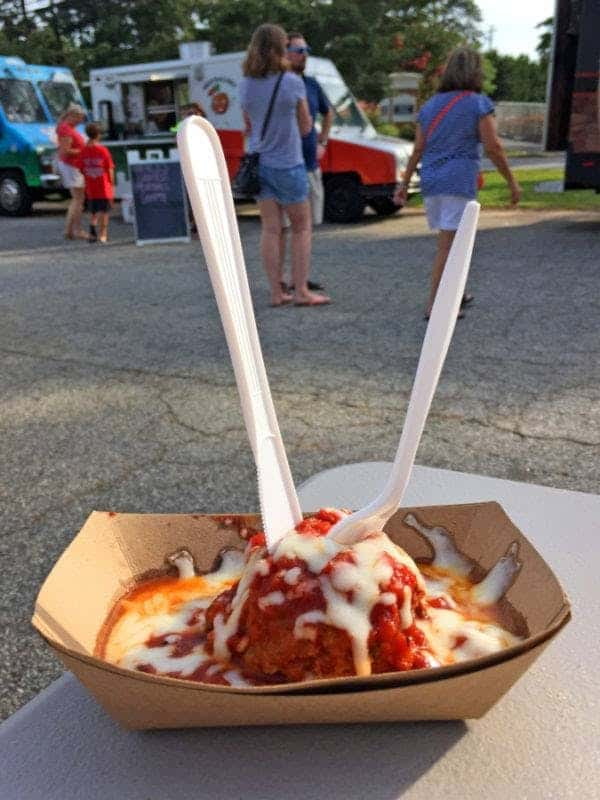 Freckled & Blue • (404) 989-5571
FB: Freckled & Blue | T: @freckledandblue
Freckled & Blue (named after the skin and eyes of the owners, a husband-and-wife team) started as a food truck creating a modern spin on Southern cuisine. The couple realized they wanted to focus on catering and now cook tasty dishes like Mediterranean deviled eggs, pimento cheese and other favorites. These "FaB" items (get it, Freckled And Blue) became so, well, fab that the owners opened a brick-and-mortar food store and restaurant counter in Smyrna — just in case you don't want to track their tasty truck.
Happy Belly • (404) 719-3256
FB: Happy Belly Truck | T: @happybellytruck
We love when the name of the food truck will tell you exactly what's going to happen during and after your meal. Happy Belly Curbside Kitchen serves a "farm to street" menu and yes, you read that right. Happy Belly food truck has a Big Green Egg on the truck (!) to create juicy grilled meats, veggies and anything else that tastes great being cooked on that delicious smoker. We recommend trying the succulent sandwiches, like The Georgian Burger (grass-fed short rib brisket hamburger, grilled on the Big Green Egg) served with sweet Vidalia onion relish, cheddar cheese and ancho chili dressing — all on a Holeman and Finch bun. If you don't eat meat, there are other yummy options like the Veg Head veggie sandwich and the One for the Kipper kale salad with salmon.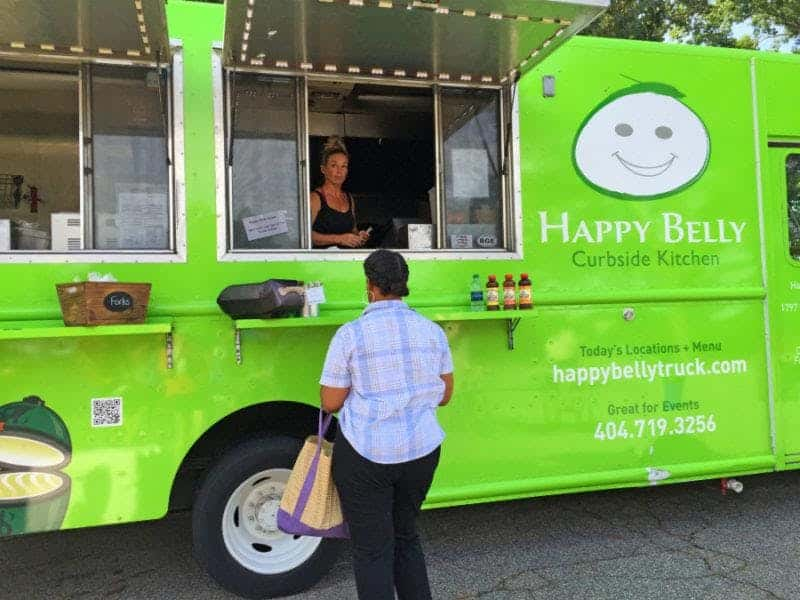 Nectar • (404) 633-4400
Live like a god and treat your body like a temple with the wholesome offerings from Nectar. Food trucks may have a bad rap as greasy spoons, but these days these mobile restaurants, like Nectar, serve some good-for-you items like amazing smoothies (I went with the green smoothie featuring kale, cucumber, apple and pineapple, or try the Paleo, with kale, mango, banana and almond milk). This juicing truck also offers great paninis, salads and other diet-friendly meals.
Mix'D UP • (404) 822-6758
FB: Mix'd Up | T: @mixdupburgers |IG: @mixdupfood
If food trucks had personalities, Mix'D UP would be that hard-partying rocker who loves downing a burger right before he goes on stage. This gourmet hamburger truck (which also has a convenient truck stop in Grant Park) serves creative takes on, you guessed it, America's favorite sandwich. Standouts include Rockin' Hero Bite (lamb burger with tzatziki and feta), The Pile (Angus cheeseburger topped with cheesy Buffalo fries) and more. And seriously, don't get us started on The Strings — shoestring fries topped with a smorgasbord of delicious, naughty ingredients (i.e., the Southern includes shredded cheese, pulled pork and barbecue sauce).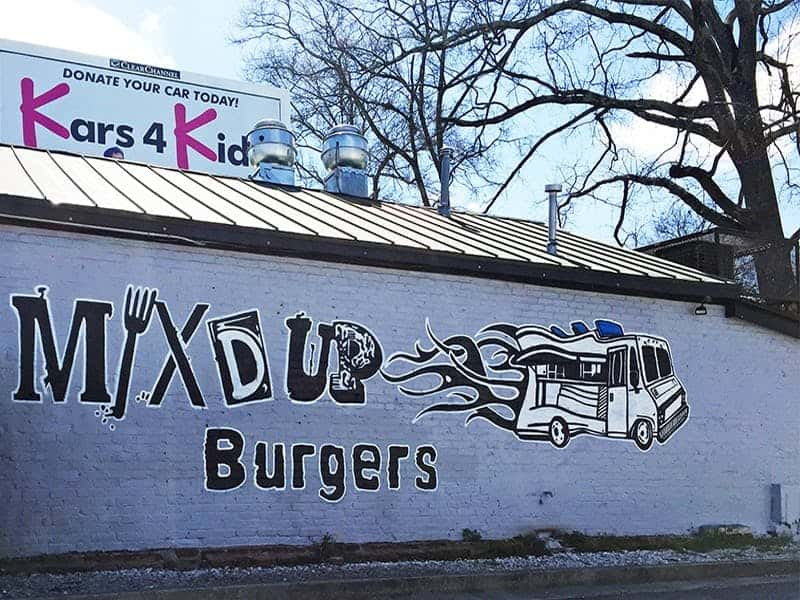 Yumbii • (404) 285-0357
FB: Yumbii | T: @Yumbii | IG: @Yumbii
The only thing better than eating Korean food and Mexican food is eating Korean-Mexican food! Yumbii achieves that difficult, delicate task of combining two ethnic cuisines in a delicious, perfect way. The Korean barbecue fish tacos are, by far, my favorite thing on the menu but you can't go wrong with any of the items, including specialties like the Yumbii Philly (French roll with Asian ribeye, cucumber kimchi, onions and Sriracha cheese) paired with their awesome sesame fries.